Celery is by far one of the most nutritious vegetables available. It is a great source of potassium, magnesium, and vitamins A, B, C, and K. It is also rich in phytonutrients, which act as anti-inflammatory and antioxidant agents, boosting the immune system and overall health.
Fresh celery benefits nutrition thanks to all the tremendous vitamins and minerals it contains. One cup of chopped raw celery (about 101 grams) contains approximately:
16.2 calories
3.5 grams carbohydrates
0.7 gram protein
0.2 gram fat
1.6 grams fiber
29.6 micrograms vitamin K (37 percent DV)
453 international units (9 percent DV)
36.5 micrograms folate (9 percent DV)
263 milligrams potassium (8 percent DV)
3.1 milligrams vitamin C (5 percent DV)
0.1 milligram manganese (5 percent DV)
0.1 milligram vitamin B6 (4 percent DV)
40.4 milligrams calcium (4 percent DV)
0.1 milligram riboflavin (3 percent DV)
11.1 milligrams magnesium (3 percent DV)
All with some sugars, celery also contains some vitamin E, niacin, pantothenic acid, iron, phosphorus, zinc, and selenium.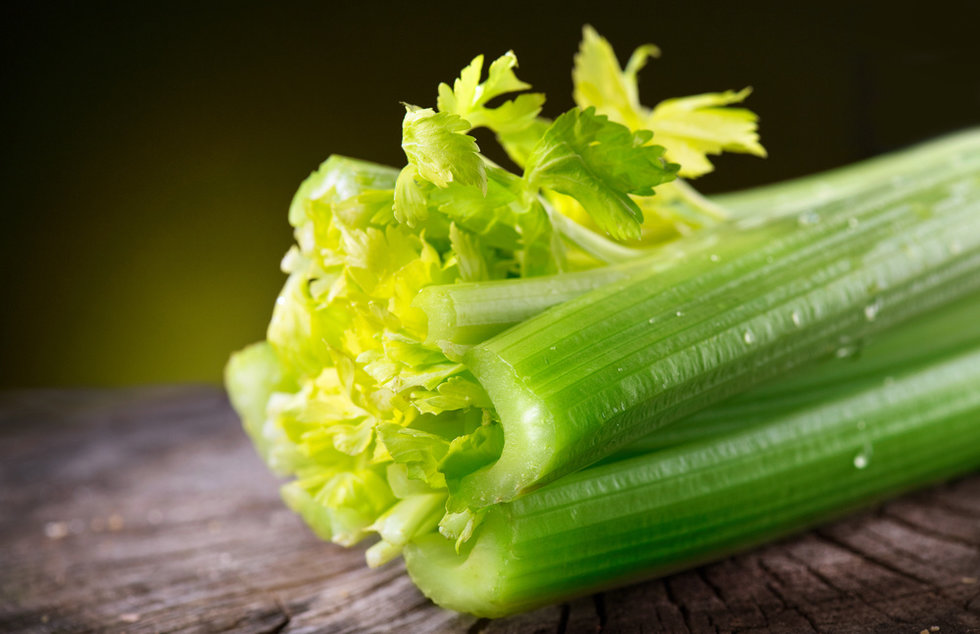 According to Healthy Food House, researchers have confirmed the numerous health benefits of celery:
Celery can help prevents chronic inflammation
It helps regulate the pH balance of the body
it assist in weight loss since it is low in calories but high in fiber
Celery helps digestion and treats stomach issues and constipation
It can help treat urinary tract infections as it has potent diuretic properties
It soothes the nervous system and may help you fall asleep
Celery has been found to regulate cholesterol and blood pressure, since it contains phthalide
It is low in acids and relieves heartburn and acid reflux
Celery is abundant in vitamin A, so it improves vision, treats dry eyes, and protects the cornea
It can clean your teeth like a natural dental floss since it is breaking into fibrous strands while chewing
You can appreciate the countless benefits of celery in many ways. It goes great in soups, stir-fries, stews, and salads. It can also be dipped in peanut butter, hummus, or other sauces.

If you found this information helpful or just have a love for celery, please remember to SHARE this article with your family and friends on Facebook!